Inspired by a new friend from this forum telling me to use lemon juice and hot water to clean a durty carb ( it actually works prety well) I thought we should start a tips and tech thread, if it get enough attention we can get teh mods to make it a sticky.

here is one i learned from a long distance rider friend of mine. use pledge for in between waxes. It works pretty darm well. you'd be amazed.

To clean chrome with light surface rust use 0000 steel wool. it works great.

To clean bug after a road trip, wet the area coverd in bugs and wipe with bounce fabric softener sheets.

thats what i have on top of my head, but I am sure there are many others. Post up and help a fellow rider out.


Rear of the Pack




Posts

: 495


Join date

: 2010-08-09



Excellent idea! I've got some how to stuff saved in my photobucket so I'll post some up when I get some time.
Well I will share the lemon juice trick here! Since acids that are sold in stores can be much too harsh are even detrimental to aluminum, especially cast aluminum, it is a bad idea to use it to clean carbs, such as in the bodies and other aluminum parts. Here is a full rundown on a really good and cheap way to clean up your carbs and make them like new!

Start with a pot of boiling water (5 cups). Remove from boil and add one heavy pinch of salt and 1 cup of lemon juice. Place all of the carb parts in the solution, disassembled or assembled if they are too gunked up to take apart. Once it has rested in the solution for about an hour, remove parts and reheat the solution to a near boil and replace parts. Once the solution has cooled enough for you to handle it (about 20 minutes) begin taking out the parts one at a time and scrubbing with a brass brush or nylon tooth brush. No need to brush the brass bit though yet, like the jets or air screws...take them to the side and soak them in a solution of muriatic acid and water (about 1:1) then remove them and place them in a bit of warm water and a teaspoon of baking soda mix to neutralize the acid on them. Now clean them and all the other parts with a good fresh water rinse. This will bring your carbs back to an "as new of a condition" as they can be. Cheap and easy....you will love this trick!

For rusted chrome you can also use aluminum foil. Ball it up loosely. Pour a coke on it and scrub the chrome. The foil will not scratch the chrome.
______________________________________
I tried being NORMAL once.....It didn't work out.
LIFE'S SHORT,RIDE HARD
The older we get, The fewer things seem worth waiting in line for.
Never, under any circumstances, take a sleeping pill and a laxative on the same night.

Admin




Posts

: 2930


Join date

: 2010-05-13


Age

: 48


Location

: Mobile,Al



Middle of the Pack




Posts

: 544


Join date

: 2010-07-08


Age

: 53


Location

: Mobile (West Mobile), AL



Saw this one in a video on one of the handlebar website.... Use a small chain to pull wires through the bars... here is a link to the videos. This guy has some awesome work by the way.....

http://www.brcustomcycles.com/HOW_TO_VIDEOS_FROM_BR.php



______________________________________
I am back....07 Suckerpunch Sallys Bobber
Admin




Posts

: 1097


Join date

: 2010-03-26


Age

: 40


Location

: Fairhope



Use a clothes pin to hold pushrod tubes on Harleys while adjusting valves. Easier and faster than the old clothes hanger trick.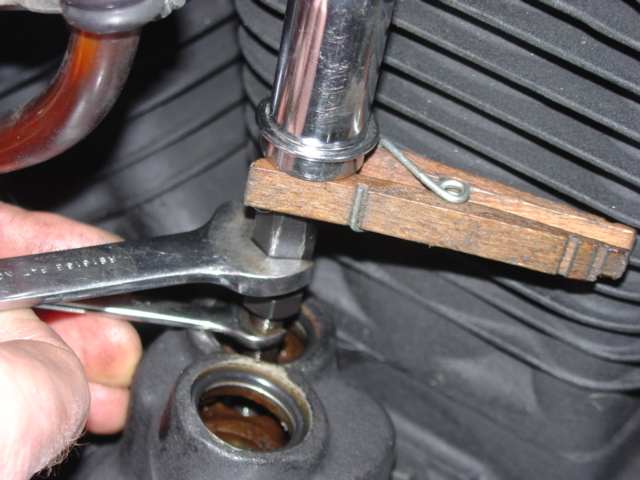 Seat Cushion




Posts

: 188


Join date

: 2010-09-14


Age

: 35


Location

: Mobile,AL



Middle of the Pack




Posts

: 544


Join date

: 2010-07-08


Age

: 53


Location

: Mobile (West Mobile), AL



If you know someone who is a Amway rep. They sell a product called Scrubby Buddy, looks like chrome shavings wadded up, they take rust off of chrome like you never seen before
newbie




Posts

: 7


Join date

: 2012-08-06


Age

: 54


Location

: Theodore



I just clean the crome on the wheel rims and spokes with lemon joy dry then paint the whole frigging thing flat black!!!!HA!HA just had to lighten up the forum a bit.. seroiusly these are some good tips you guys are putting out there after the fog clears in my mind one day I will add some.
Rear of the Pack




Posts

: 415


Join date

: 2011-09-20


Age

: 62


Location

: spencer field Fla.




---
Permissions in this forum:
You
cannot
reply to topics in this forum